★ Have you tried Sugar Shooter 1?

Game information
Title: Sugar Shooter 2 ~The Battle of the Wagashi Kingdom~
Genre: Erotic bullet hell shooting game
Player: 1 person
Price: $20
Operating systems: Windows and Mac
Release date: Feb 26 2012
Langage: English, Japanese, (Fansub: Chinese[Traditional], Spanish, Russian)
Story
Sugar Shooter is an erotic shoot'em up game! Taking control of Satan-kun, the prince of the Sweet Kingdom go on a journey in Wagashi no kuni, the land of Japanese sweet. Beat them and make them pay for they've done to your kingdom!
Characters
Haven't played the first Sugar Shooter?
This is all you need to know to enjoy Sugar Shooter 2!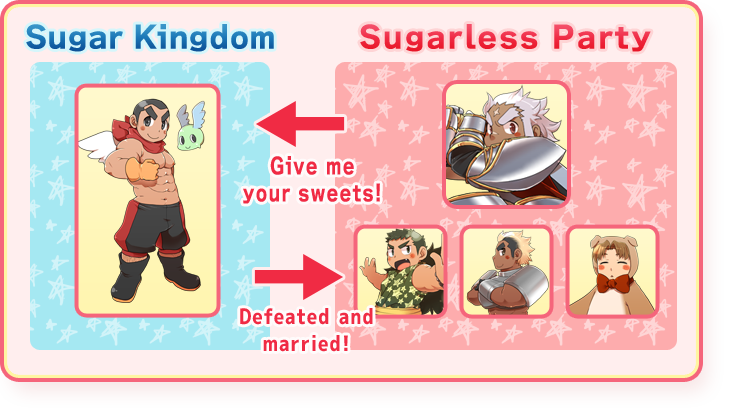 Not interested in erotic content?
Sugar Shooter 2 is fun and challenging for any shoot'em up player even without erotic contents. You can turn off erotic cut scenes and nudity by changing the setting below.
Title menu -> Options -> Toggle "H Scene" [Off]
Title menu -> Options -> Toggle "Nudity" [Off]
Requirement
Windows
Windows XP/Vista/7 (32bit)
CPU: 2 GHz Intel Pentium 4 / AMD Athlon 64 Processor
メモリー: 1GB RAM
HDD: 600MB
DirectX 9.0c
Sound: DirectX 9.0c compatible sound card
Mac
Operating System: OS X version Leopard 10.5.8  Snow Leopard 10.6.3. CANNOT BE PLAYED on Catalina 10.15 or later
CPU : 1.8 GHz Intel Processor
メモリー: 1 GB RAM
HDD: 600MB
Features
A bullet hell game with beautiful and challenging bullet patterns.
Finish the boss with special attack to destroy their armors.
Four difficulties to choose, ranging from the easy "Sweet" mode to a hard-core "Black" mode.
Multiple endings depending on your shmup gaming skill.
Four partners from Sugar Shooter 1. Multiple endings depending on your partner.
Screenshots
Video
Music
Get Sugar★Shooter 2 Original Soundtracks for $7.
Download
Demo Version
You can download and play the 1st stage with 4 difficulties in Windows and Mac OSX.
The file size is 140 MB
Patch
The latest version is 1.13. Please update if your game is not the latest version.
Download link and detail is here.
Fan Kit
Fan Kit is a collection of resource for you to make fan creation.
Feel free to use this for creating fan site or fan content.
Other Language Script
These scripts are translated by supporters.
Game Script
If you want to translate the game, you can download the game script here.
Payment Method
Credit card and debit card are accepted.
For debit card, please choose credit card for payment method and enter your debit card number in the card number field.
The following will be shown in your credit card statements:
WWW.BMTMICRO-INFO.COM 910-792-9100 NC
Credits
Related link