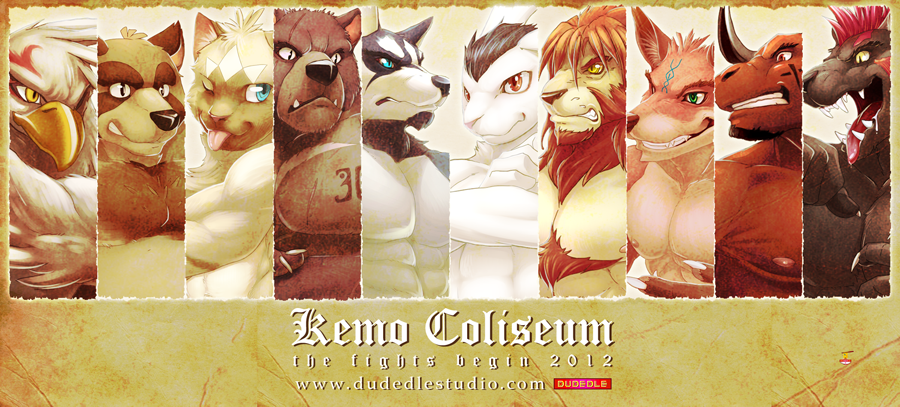 Game Information
Title: Kemo Coliseum
Genre: Match-3 puzzle RPG
Player: 1 person
Price: Free
Console: Windows and Mac
Demo release date: TBA
Langage: English, Japanese
Making Progress
Public Demo
This is a battle scene demo. You can fight and defeat an enemy. Skill will be implemented later.
You need Unity Player plugin to play the demo.

Related Link
Donators
Updated on May 17nd 2013.
Name
Comment
Region
Ceoller

"I love game produced by Dudedle Studio!!!~~ I love you(or you guys)! Sorry for less donate, i'd like to donate more if I'm not student.

AnywayXD Please make good! I will support Dudedle Studio forever!"

China
amani325

Hey PuniPen @Dudedle, I made a total of $20 the past two months (5 in December, and 15 just now). Can I get access to the All Secret forum. I am awaiting account approval on your forum and my alias is my username and my email is above. THANKS!

LA
Eon Snowpaw
This looks like it'll be PAWESOME!
U.S.
Cloudfox
More well-done furry eroge, in English? YES PLEASE
U.S.
Pascal Terpstra

"I'm delighted to see this game getting developed and eventually finished! Come on everyone! Show the creators some well-deserved donations!

I'll be hosting this game as soon as it's in production, so everyone can enjoy this!"

the Netherlands
FrostlyWolf
Hope this will help out, and can't wait to see this come out well! Good luck!
U.S.
ZImux
Keep it up you guys! The game is looking to be pretty fun and highly entertaining right now!
U.S.
Lyga
Thailand
Insaneguy
U.S.
Mess
Cant wait to see this come out
US
Duke_N
Can't wait to see game finished in future! Keep up the awesome work.
Finland
JJ
Just found your flash games, and I really love all of them. I'm looking forward to this, and I'm sure it'll be fantastic once it gets done.
US
shao-ron
"制作応援しております。 KEMONO LOVE!"
japan
Zoop
I sure hope this donation helps you give us an even better game
U.S.
Anonymous
New Zealand
Scratch Torn
Maryland
Anonymous
love to help out
Australia
Axle
This looks like a great game, and I hope very much to see it completed! Keep up your hard work, dudedle studios!
U.S.
TSBoy
Here is another push from me. Don't give up!
U.S.
Ash Furson
Florida
Reoh
Good luck! I'm always with you.
Empire of Japan
Q&A
What kind of game is this?
"Kemo Coliseum" is a RPG and match-3 puzzle hybrid game. If you know or have played "Puzzle Quest", then this game is pretty much a furry + nudity version of that. There are variation in gameplay though, so it isn't an exact copy.
Will there be nudity or erotic scenes in the game?
The game contain strong nudities, mostly involving forced gay sex due to the theme of the game. In the coliseum, the person who lose will have to suffer the 'punishment' from the crowd.
How many characters are there?
There are total of 10 major characters that you can see erotic scenes in the game, 3 of them are playable characters. It's possible that we might create an expansion in the future that allow you to play other character's scenario.
Will there be female characters? If so, will there be nudity scenes involving female characters?
There are female NPCs in the game that serve for story and setting purpose. However, there will be no erotic scenes involving female in the game.
How much will the game cost?
The game will be free for everyone. Furry gay game is already limited, why not make it free so everyone can enjoy?
You are encouraged to share, make a copy, put it on hosting site, etc. You are also free to sell the game, if you want to, be it digitally or physically. No need to share us profit, if you don't feel like it.
How are you gonna make money out of this?
We will accept donation though. If you like the game, want to support what we are doing, or just feel like throwing money at us, then feel free to donate!
What platform will this game be available to?
The game will be playable on Mac and Windows.
Support The Development